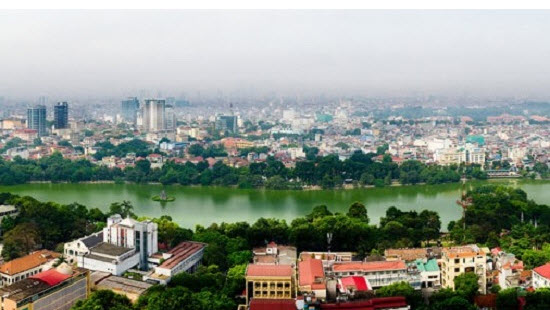 The Prime Minister assigned the People's Committee of Hanoi to assume the prime responsibility for, and coordinate with the Ministry of Construction and concerned agencies in, studying the planning of modern urban centers with synchronous technical and social infrastructures in the areas of Dong Anh, Gia Lam, Yen Vien and Long Bien; restricting construction of low-rise buildings to help reduce population in the historic inner city, from 1.26 to 0.8 million people, according to Prime Minister's Decision No. 1259/QD-TTg dated 26/7/2011; and reporting to the Prime Minister.
At the same time, the Hanoi People's Committee will partially adjust the planning of an area encompassing communes: Xuan Canh, Mai Lam, Dong Hoi of Dong Anh District, in order to meet construction requirements of the National Exhibition Center and surrounding area, as commented by The Ministry of Construction; and organize the implementation in accordance with the provisions of Clause 6, Section 3.2 of Part III – Organization of implementation of the Management Regulation issued together with the Hanoi Master Construction Plan to 2030 and vision to 2050, which has been approved by the Prime Minister.
Hanoi construction master plan has been approved by the Prime Minister since 2011. The scope of planning covers the entire administrative boundaries of ​​Hanoi Capital, which is about 3,344.6 square kilometres, functional as the capital of Vietnam, the political and administrative center of the whole country, and a special urban center.
In February, 2018, Hanoi People`s Committee has issued a decision approving the partial revision of the Capital's construction master plan to 2030 with vision to 2050.
Under the adjusted plan, public and mixed-land area increased by 14.39 ha (bringing the total to 34.24 ha, accounting for 8% of the total land use area), while the land area for greenery, amusement parks, and water surface decreased by 41.92ha (now 111.08ha, accounting for 26.21%) and the land area for training/education institutions was upwards adjusted to 22.7ha.
The land area for new residential units increased by 25.32ha (bringing the total to 122.2ha, accounting for 28.83%); project land in the green belt decreased by 35.72ha (its total is down to 63.15ha, accounting for 14.89%); urbanized rural areas increased by 3.16ha (its total is up to 8.13ha, accounting for 1.92%); land for defense and national security increased by 0.92ha (bringing its total up to 4.22ha, accounting for 1%); technical infrastructure focal area increased by 4.18 ha (accounting for 0.99%); roadways increased by 7.97ha (up 53.93%, accounting for 12.72%).
As such, the revised plan has increased the land area available for public use, common services, residential units, defense and national security, roadways and technical focal areas, and reduced park and project land in the green belt.