PM Dung appreciated construction units and workers who had worked day and night to complete the bridge one year before schedule.
Co Chien Bridge plays a significant role in the coastal corridor's traffic development strategy, security and national defense of the Mekong Delta.
The bridge will reduce traffic pressure on National Highway 1A, facilitate vehicular traffic on Highway 60, and shorten the distance between Ho Chi Minh City and provinces Tra Vinh and Soc Trang.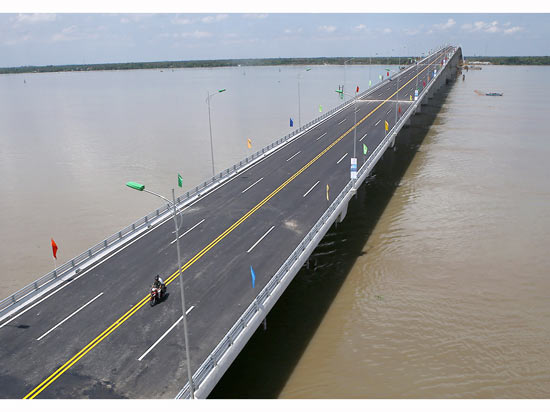 Co Chien Bridge together with under investment traffic infrastructure in the Mekong Delta will be an important condition for the Mekong Delta to boost socio-economic development and improve local people's lives.
The bridge broke ground on August 2, 2013 at a total costs of VND2,308 billion (US$106.19 million).
The main bridge, 1,599m long and 16m wide, comprises four 80km per hour lanes. Approach roads in both sides of the bridge have a total length of 9.39 kilometers.
Co Chien Bridge is located about 3.6 kilometers from the ferry landing in Mo Cay Nam district, Ben Tre province.